15 Fishing Gifts That Will Not Get Returned 2018 Edition
Do you have an avid dad who fishes every now and then or perhaps a relative that won't miss the week without angling by the nearest lake Now as we're still in the holidays, it's about time to wow them with these fishing gifts that won't get returned!
But as gifts are ever presented in multitude, one must know how and what to choose; and more importantly, one is expected to splurge without having to break their wallet. If you're budget conscious and looking for some great, gift ideas, you're in luck! Consider this post as a godsend this Yuletide season. Whether your friends or relatives are quite hard to please and not on the picky side at all, this set of gifts below is meticulously chosen to cater to both sides of this spectrum. Ultimately, these identified gifts are bound to be loved by any angler. Here they are:
Fishing Gifts That Will Not Get Returned 
Under $50
Burton & Burton sure knows how to craft a mug that should encapsulate its users with both the greatest leisure of their life while being grounded with their respective albeit sardonic beliefs. A perfect mixture of fun and devoutness, this mug is also dishwasher and microwave safe.
Meanwhile, this FDA-approved product has a carefully hand-painted porcelain structure that comes with a seemingly courageous message: Born to Fish. The mugs message on its back has this written passage: God grant me the serenity to accept the one that got away, the courage not to tell stories about it, and the wisdom to know that no one would believe me anyway. Each mug is individually boxed to perfection.
The godfather of all the parodied fishing t-shirts, The Rodfather will surely amaze those Marlon Brando fans out there. Mafia in a fishing spree How very Italian! What makes this utterly a class of its own is its noted comfortable modern fit that is fitted in a timeless, classic design a combination that should wow this film genre. On the other hand, the product is made from premium quality soft cotton, a testament on just how meticulously crafted this shirt is.
So, if you have an uncle or cousin who dotes on nothing but The Godfather, wrap this up quick and slide this beneath his tree!
Need to cut a line quickly Or whistle your way out to survive The Emergency Survival Kit is a pack of necessities with gigantic offerings. From a folding knife, compass, to emergency blanket and tactical pen, this one is probably the most suitable gift for virtually everyone that you know who adores fishing or even camping!
This all-in-one survival kit is both lightweight and durable and can be fit right through your backpack. In addition, its carrying case is waterproof. What makes this the perfect gift Apart from its apparent uses, this can also be ideal for a rookie fisher which should definitely enhance his surviving skills, let alone its survival instinct!
Fishermen all want to rest under a tree after a day of sun-drenched escapades. And what could be more comforting than resting on the portable and breathable chair This foldable and lightweight camp backpacking chair should enthuse all those who appreciate respite after fun-filled angling!
It comes with a unique design seat that is much larger but ultimately more comfortable than its competition. But don't be swayed by its ergonomics as the product is also heavy duty. It is made of aircraft-grade 7075 Aviation Aluminum Alloy which is deemed as one of the highest strength aluminum alloys on the market now. The product is likewise unbeatable when it comes to its flexibility as it can also be used for a camper, hikers, backpackers, and concert-goers alike!
There is nothing cooler than a beanie hat that makes you look in charge! Available in a multitude of colors, the Qshell Mens Womens Outdoor Bluetooth Music Beanie Hat is ideal for those who want to still be on trend while fishing.
It is made of 100 percent Super Soft Acrylic that should keep its users? head and ear warm. Perhaps its most standout feature is its inclusion of music without you using some additional headphones! Truly a fusion of fashion and technology (and fishing, if you will!)It comes with the newest Bluetooth V4.1 Technology that allows its purchasers to pair it with smartphones, tablets, laptops, along with the other Bluetooth-enabled music devices.
And if that isn't enough, the product is also equipped with simple design operating buttons for its built-in stereo speaker and microphone. Use it until you drop with the item's generous battery performance as well!
More than $50
Fishermen are naturally outgoing and as they go, they need a backpack that does the storage, comfort, and convenience all at the same time. The Spiderwire Fishing Backpack will delight those who seek to trek their spot and bring these features to the table.
It should also excite those users who have lots of items in them. The product has all the compartments that you need: the top compartment that stores your personal stuff; the middle cooler compartment should house your food and drinks while the lower compartment can harbor your much-needed utility box. On the other hand, if your dad or uncle is on the meticulous side, wrap this up (literally!) and send it over right now as this item comes with an organizer compartment and cool size-zippered pockets and a fishing tool holder. These extra compartments should keep your gear sorted on both sides!
Just because your fishing endeavor doesn't demand much of fashion, that doesn't mean that you have to sacrifice it in full force. The DuffelSak Waterproof Duffel Bag is all modern, effective, and most of all, an eye-candy.
Is your uncle secretly a dapper If he really is, then this bag should send him over the moon! But its design isn't the end of its thrill. The product is also built to accommodate and withstand hard wear. Unlike to most flimsier satchels, this duffel dry bag comes in 500D PVC along with watertight welded seams? perfect for wherever your trek brings you to. This is only rivaled by the allowance of space that comes with it.
From your smartphones to any fishing tool that you may have, this bag, which is available in 40L and 60L sizes, should address these needs whether you're just slinging it or grabbing it by its padded double handles!
Nothing beats a present that combines the strength of a rod and the efficiency of a reel. The Pflueger Lady Trion Spinning Combo redefines what it means to own a combo rod and reel. This product should especially attract women as it comes with reel sizes that are specifically crafted to match these users.
Meanwhile, it's machined and double-anodized aluminum spool shouldn?t be underestimated as it is as durable as it looks! You'd know that this spinning combo is specially developed for women due to its appropriated custom grip lengths, proper size reels, along with some certain action that should cater to women anglers. Pflueger is a proud and ardent supporter of the American Breast Cancer Foundation.
Shopping a gift for a fisherman doesn't have to be that hard. If you're needing a gift idea that is simple but packs a punch, the Fishing Bucket Storage Organizer Kit is the one to beat! May it is Father's Day, Christmas or his birthday, this cool item is ultra-unique in a sense that it cannot be found in stores!
It features a 6.5-gallon fishing bucket that can hold up to 40 lbs. of water weight and optimum padded and comfortable handle. This gift also is equipped with super bright and high-powered LED lights and two Quick Strike indicator tension line holders. Also thrown in the mix are a beer can/ XL thermos/cup/ bait holder and one universal bracket to remove the cup holder for travel.
All in all, this easy-to-use and lightweight product can be used for all ages and experience levels.
Comfort in fishing is redefined with the Rugged Shark Great White Premium Fishing Deck Boots. They are specially designed to keep your dad comfortable and dry all day long.
It is equipped with a full length, anatomical comfort footbed which offers support and cushioning, allowing its users to weather the roughest situations!
So whether your uncle is fishing with the rain pelting on the boat or the sun drenching it or your father is an offshore angler or a serious boater, these boots should be able to cater these conditions. Meanwhile, the? Great White is armed with a slip-resistant structure, thanks to its Shark Grip, Slip-Resistant Non-Marking Rubber Sole. On the other hand, the boots are crafted for flex purposes with its carefully rubber-constructed offering.
More than $80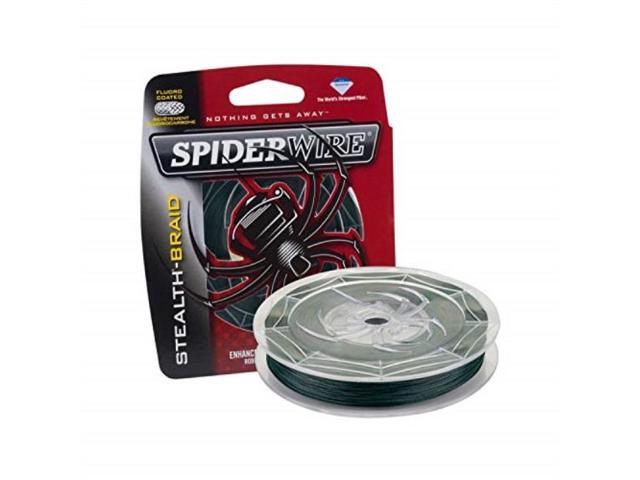 Is your nephew still stuck in the rookie stage of fishing Does he still look for an upper hand when it comes to his fishing line? If he's still right in these challenges, then the Spiderwire Braided Stealth Superline might very well act as his saving tool!
It is constructed for optimum strength along with the thinnest diameter in the competition. If he wants to cast further, shooting through the guides of his rod that is akin to a bullet with a panache of a whispered stealth.
Meanwhile, this should serve as the ideal gift for those fishers who intend to improve their lines sensitivity. This line is specially crafted with superior sensitivity so it can instantly detect bites and aid in preventing the line from digging in on reels.
Ultimately, the line is available in moss green color, allowing it to have low visibility giving you that rightful edge in the sometimes challenging water conditions!
Whether your dad is ice fishing in Chippewa falls or angling by the nearest lake wherever he and his mates would be heading to, the MuckBoots Men's Arctic Pro Hunting Boot should delight his feet when it comes to warming and protecting them at the same time.
The Arctic Pro is deemed to be one of the warmest neoprene boots on the market today. That aside, they're also ASTM-certified to safeguard the feet from any nefarious condition. On the other hand, the Arctic Pro is expected to deliver that much-needed 100 percent waterproof quality that can all be experienced from a Muck Boot product.
This gift is very much ideal too if the receiving end appreciates flexibility among anything else as it can also be used right in the toughest conditions whether he or she is venturing in agriculture, outdoor sporting, lawn and garden, and even pet care.
Raise the level of cool in any of your fishing expedition with the Costa Del Mar Fantail Sunglasses. The U.S.-made sunglasses are equipped with glass lenses and the distinctive 580 Polycarbonate which provides high-clarity, impact- and scratch-resistance; its lightweight, all-day wear-ability should also delight users who value efficiency.
This gift should also suit those anglers who always go for bright and full-sun situations right on the open water and offshore. Ideal for those who appreciate fit and durability, these sunglasses come with a co-injected bio-based nylon frame material. Another hallmark feature on this present is its 100 percent polarization that effectively removes glare while reducing eye strain in the process.
Is your father particularly competitive The 13 Fishing Inception 8.1:1 Gear Ratio Fishing Reel is all guaranteed to deliver nothing but exceptional performance right at his highest level of competition!
It is crafted with a rigid and robust HD aluminum frame along with reinforced graphite side plates. On the other hand, this fishing reel can be used by anglers of all skill levels (budgets, if you must!).
It has an eight-bearing system which comprises of two Japanese high spin bearings and five stainless steel bearings and the distinctive Instant Stop Anti-Reverse bearing which should provide satisfaction to users who look for consistent and fluid functioning.
This offering currently has four model options which cater to both right- and left-handed users.

You can never go wrong when you're gifting a rod from St. Croix! Its high sensitivity alone makes it ideal for people who are very much into either professional or small fishing.
The St. Croix Avid Spinning Rods come with an efficient, long handle that makes it suitable for whipping casts to distance; they also have that distinctive and good balance that is only equaled if it is paired by the Shimano Stradic 2500.
Moreover, it's integrated with the proprietary Poly Curve Technology that eliminates transitional points in the rod blank, allowing a smoother action, more robustness, and much-improved sensitivity. Meanwhile, users can expect the utmost reliability with St. Croix's rod. This is due to its Fuji Alconite guides and reel seats; handles are also crafted out of finely selected cork.
Concluding Thoughts
Giving gifts can be daunting on both sides: the giver and the receiver. For it to be worry and regret-free, this conscious list I have personally gathered should ward you off from ever fretting again that they may ever get returned. More importantly, these presents are specially aligned based on your budgetary needs.
So whether you're on an especially tight budget or willing to go further, these products are more than enough to guide you.
Did you like this post? Do you have friends who are still confounded and lost by the idea of gift-giving to fishing aficionados? If so, please don't forget to share this article to aid them on that one. 
If you have anything to add, ask, or share, please feel free to sound them off in the comment section below. Until then, happy hunting!