Best Ice Fishing Heater Top Reviews and Essential Guide in 2018
Ice fishing can be all that fun and exciting. But all that reserved energy can go dwindling if one isn't armed with the best ice fishing heater. And in these days, dressing for the part just isn't sufficient.
Time isn't luxurious when it comes to ice fishing. However, the same can't be said when it comes to choosing the best ice fishing heater to get you through the coldest and neediest of conditions. But as with all your most important purchases, just how do you choose the best one out there? Which vital factors should you look into when going for the right one for your needs today, we'll not only look into these considerations but for you to have an easier selection, I've also narrowed down five of the most-sought ice fishing heaters on the market now:
| Product Name | Product Dimensions | Weight | Rating | Reviews |
| --- | --- | --- | --- | --- |
| | 18.5 x 18 x 11.4 inches | 20 pounds | 97/100 | |
| | 9 x 14.2 x 14.4 inches | 9.5 pounds | 98/100 | |
| | 11 x 11 x 11 inches | 5 pounds | 95/100 | |
| | 5.5 x 10.5 x 13.6 inches | 1 pounds | 94/100 | |
| | 18.2 x 15.6 x 13 inches | 3.4 pounds | 94/100 | |
Best Ice Fishing Heater
This Big Buddy is not to be toyed with when it comes to efficiency, portability, and overall performance. Mr. Heaters MH18B is taking its consumers portable heating experience to new heights.
With its ample 18,000 BTU/HR capacity which can heat up to 400 square feet, this ice fishing heater also fuses radiant heat with convection heat airflow that optimizes the effectiveness of heating. Meanwhile, your space's comfort level is duly controlled with Big Buddys multi-position heat settings while safety operations are guaranteed with the accompanying low oxygen sensor and tip-over switch.
Other inclusions are the easy-carry handle with built-in blower fan, dual ceramic burner tiles with shock-absorbing insulation, and porcelain-coated reflector for the longevity of the product.
Specs:
PROS
CONS
The next Big Buddy in town is setting the standard even higher in terms of providing portability, comfort, and efficiency on heating spaces in ice fishing.
It comes with a larger heating surface, a convenient fold-down handle which reduces storage space, a swivel-out fuel connection, along with an easy-start four-position control.
On the other hand, paramount safety is experienced with its low-oxygen shut-off and tip-over safety shut-off system. Another convenient feature comes from its swivel regulator which simplifies LP cylinder and hose installation.
The same can be said with its ceramic burner tile that is mounted with shock-absorbing installation, ensuring a durable performance and convenience on future replacements.
Specs:
PROS
CONS
Evidently, Mr. Heaters F215100 MH4B Little Buddy's, most distinctive offering comes from its compact form and portability. Imagine a larger flashlight illuminating with a comfortable handle and a rounded heater body, then cap it off with safety features which are present on the brands larger variants.
Truthfully, the misgiving this Little Buddy has come to offer is ironically its size. But consumers beg to differ, this very feature makes it quite suitable for those who want to heat up small spaces like tents and the like. Little Buddy comes with a continuous, odor-free heat that can heat your space for less than six hours.
Other features include high-temperature wire guard, a swivel regulator for convenient LP cylinder and hose installation, and the familiar ceramic burner tile mounted with shock absorbing insulation which can also be found with its bigger siblings.
So, if your ice fishing space is not that particularly expansive and you mind larger heaters, this one is for you.
Specs:
PROS
CONS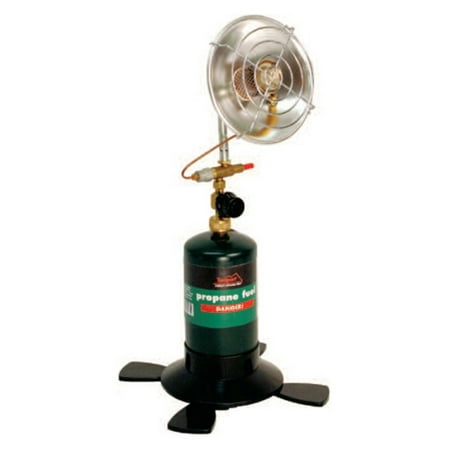 Ice fishing, camping in a tent, or even heating your golf carts, the Texsport Portable Outdoor Propane Heater should be on top of your list if you're gunning for a great portable heater.
One of the tinier and cheaper models in this list, Texsports entry boasts of an output of 2890 BTU. Does the small yet reliable heater also utilize 14.1 16.4 oz of propane cans that are disposable that can last to an estimated five hours even at lower temperatures. Deemed as the best outdoor heater by most, this one can also be used while you're fishing, deer hunting, and camping in cool weather conditions. Other included perks are the durable stainless steel burner, the large paddle foot plastic base, and the aluminum reflector with safety grid.
Specs:
PROS
CONS
Both instantaneous and efficient, the Dyna-Glo LP Tank Top Heaters performs and deliver whenever and wherever you need it. Whether you're patiently waiting for a fish to bite your lure or simply wanting to warm your tent, this heater is guaranteed to be all reliable and durable in your neediest moments.
The product comes with its proprietary Double Mesh Burner that is developed specifically to thwart heavy winds. Meanwhile, this 15,000 BTU-producing LP Tank Top Heater is unapologetically ready-to-use.
It doesn't require assembly as well; convenience is stepped up with its Quick Connect POL which comprises of hand wheel that can be connected easily to the tank.
Specs:
PROS
CONS
A Buyer's Quick Guide: Which Key Factors Should You Consider?
The market is now awash with many portable ice fishing heaters. And at most times, this plethora of selection can get in the way with your decision. But if you're equipped with the right know-how, choosing one should be a breeze. The factors below are the ones that you should keep in mind:
1. The Heater's Size
The best ice fishing heater should always be size-appropriate. The size, or the BTU output, should be determined first before going in for your purchase. The size can be ascertained by means of getting the measurement of the floor space right in the ice shelter that should be matched to your heater. Meanwhile, make certain that your heater is not that undersized if you want efficient heating right in your space. On the other hand, when your heater is a bit too immense for a lesser space, that might give you an unnecessary weight along the way. Ideally, a heater which is equipped with a stronger capacity is more preferred as it allows consumers to navigate using the lower setting as they also ensure a reservation of its maximum output during the coldest conditions.
Whatever your agenda is, it's expected to be conducted in a much faster execution due to a bigger heater.
2. The British Thermal Unit Output (BTU)
For the uninitiated, the British Thermal Unit or BTU refers to the heat amount that is needed to bring a pound of waters temperature by a degree Fahrenheit. In the realm of ice fishing, heaters use 1-pound of propane canisters.
These can provide between 2,500 and 15,000 worth of BTUs. In this range, the ones which put out 10,000 BTU is deemed as the most popular. To ensure that you're getting the right BTU for your space, you have to determine first which size is ideal.
But today, most of these heaters come with the space amount that they are appropriated for. Ultimately, always go for the more power-efficient heater that fits in your shelter when doubt gets in the way.
3. The Importance of an Indoor Use Rating
The byproduct, carbon monoxide, is created when there is burning fuel. To impress upon safety in your trip, its a must that you select an ice fishing heater that has a stamp for indoor use. As this byproduct is life-threatening, the importance of this requirement couldn't be more stressed. On the other hand, when installing ice fishing heaters, you have to make sure that there's an open-source for fresh air so a circulation in the shelter is allowed to transpire. Now, while that sounds counterintuitive, the goal for this one is to get the temperature inside to be both warm and comfortable.
4. The Oxygen Depletion Sensors
When you're running an ice fishing heater in a closed space, ensure that you're able to secure oxygen depletion sensors. Along with a heater that runs properly and sufficient ventilation, these sensors contribute to eradicating a buildup of carbon monoxide.
Akin with indoor-rated ice fishing heaters, oxygen depletion sensors are also as crucial as they are required.
5. Automatic Tip-Over Shut off Valve
Apart from an indoor-use rating and oxygen depletion sensors, another safety feature that is also deemed as equally important is the automatic tip-over shutoff valve offering. As it implies, this feature will come in very handy once the heater is tipped over accidentally.
This shutoff feature gets activated if your heater gets tipped on either side, consequently turning off the fuel supply. Moreover, this shutoff valve has also been proven to thwart accidental fires.
More Helpful Tips: How to use ice fishing heaters safely
It's always recommended that you only place your heaters right on a surface that is both stable and not a fire hazard. Also, make certain that this surface is free from obstructions.
Following the recommendations that are affixed on your heater's tag would surely not give you any harm. These suggestions are crystal clear: keep the heater away from objects and walls!
Try not to limit the ventilation in which your heater is being subjected to. As such, strive to keep the air flowing to and from doors and windows. And if you can, take yourself outside to do some breathing.
Heaters that are left unattended are a disaster waiting to happen. Ensure that your heaters are turned off if you decide to step away from your endeavor for an extended period. On the other hand, secure a CO detector and use it if you intend to sleep inside an ice shack.
The Verdict
The Standout: Mr. Heater F232000 MH9BX Buddy Portable Radiant Heater Apart from its excellent provision on heating up your cabins or larger ice tents, there is something more to be desired from Mr. Heater F232000 MH9BX.
It has a massive BTU output, the most suitable and portable size on the market, a generous 225 sq. ft. space allowance, and the much-needed safety features to boot. And with its accompanying strong reviews from its consumers, this ice fishing heater is truly the one to beat!
Did you like this post? Do you think Mr. Heaters Portable Buddy is well-deserved to lead this race? If you have anything to add, share, or ask, please feel free to sound them off in the comment section below and I'll get back to you as soon as I can! Until then, happy ice fishing!